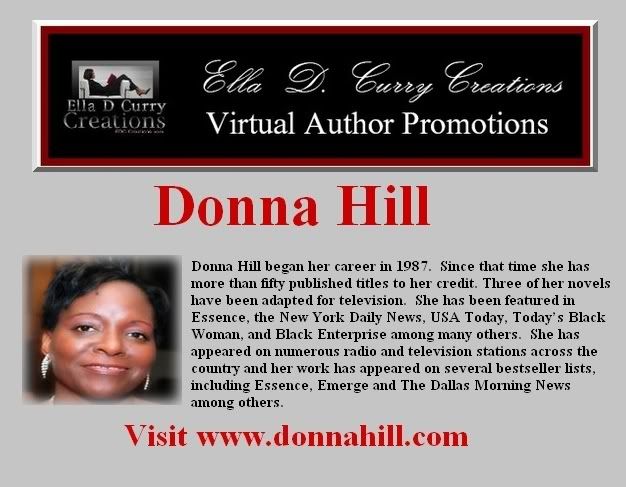 She has received numerous awards for her body of work including The Career Achievement Award, the first recipient of The Trailblazer Award among others, as well as commendations for her community service. Donna co-wrote the screenplay Fire, which enjoyed limited theater release before going to DVD. As an editor she has packaged several highly successful novels, two of which were nominated for awards. She organizes author-centered events and workshops through her editorial and promotions company Donna Hill Promotions and provides publicity and marketing services for authors. She is also a writing instructor at The Frederick Douglass Creative Arts Center in New York. Donna currently writes full-time and lives in Brooklyn with her family.
You may contact Donna via her website at
http://www.donnahill.com/
Donna is represented by the Steele-Perkins Literary Agency. Contact Donna Hill for literary events and speaking engagements
You may contact Donna via email at:
writerdoh@aol.com
.
NOTE FROM DONNA:
2008-2009 will be extremely busy for me. To the reader it may appear that I have a book on the shelf every month! But what I am immensely happy to report, I'm not doing all that writing.
Harlequin has begun to reissue all of my Arabesque novels. I am thrilled. The first reissue was CHARADE. CHANCES ARE came out in August and TEMPTATION, my very first Arabesque from 1994 will be out in November. So while those books are hopefully keeping smiles on my reader's faces and hopefully enticing new readers, I really am busy writing. I've completed Book 2 and 3 of my Ladies Cartel series: SEDUCTION AND LIES and TEMPTATION AND LIES. Seduction comes out in November and Temptation and Lies comes out in November.

In the meantime I am working on WHAT MOTHER NEVER TOLD ME, the very long-overdue follow-up to RHYTHMS. I am keeping pens crossed that it lives up to the first book. I will also be writing a reality TV novel for Harlequin, entitled TWO CAN PLAY. That will be out next spring, I believe. And I have a holiday book for next year as well. In between it all, the re-issues will be hitting the shelves. So I do hope that there will be a Donna Hill book that is just right for you!
Sex and Lies
by Donna Hill
She has a secret… The sassy sisters who hawk Tender Loving Care body products
are on a mission that goes way beyond fighting wrinkles. These lovely ladies are also undercover operatives in The Ladies Cartel--the flip-side organization of TLC cosmetics. They are so deep under, even their families and spouses don't suspect their real work or know their identities…. Executive assistant extraordinaire and TLC agent, sexy Savannah Fields gets her next assignment--investigate corporate espionage at a construction site in NYC. But Savannah is in for the shock of her life when the trail of the dirty dealings, deception and adultery leads right back to her neat suburban split-level…and her hunk of a husband, Blake!
Bibliography—Donna Hill

Romance Novels

1990-Rooms of the Heart
1991-Indiscretions
1994-Temptation
1995-Scandalous
1996-Deception
1997-Intimate Betrayal **
1998-Charade
1998-Chances Are
1998-A Private Affair **
1998–Quiet Storm
1999-Pieces of Dreams
2000-Through the Fire
2001-A Scandalous Affair
2000-Soul to Soul
2001-Interlude2003-Rockin' Around that Christmas Tree
2004-Dare to Dream
2005-Say YesLove Becomes Her July 2006
Long Distance Lover June 2006
Novellas

Spirit of the Season "The Choice"
Love Letters "Masquerade" **
Rosie's Curl and Weave "Just Like That"
Della's House of Style "It Could Happen to You"
Welcome to Leo's "Eye of the Beholder"
Let's Get it On "Lady in Waiting"
Living Large "Surprise"
Big Girls Don't Cry "Dr. Love"
Whole Lotta Love "Over the Rainbow"
Proverbs for the People "Rendezvous With Destiny"
Sister Sister "Thicker than Water"
Going to the Chapel "Distant Lover"Destiny's Daughters
Erotica (short stories)
Dark Thirst "The Touch"
Black Silk "Mojo Lover"
Indigo After Dark "In Between the Night"
Womens Fiction
2001-If I Could
2001-Rhythms
2003-An Ordinary Woman
2004-In My Bedroom
2004-Divas Inc.
2005-Getting Hers
Guilty Pleasures
Editorial Projects
After the Vows
Midnight Clear
The Hot Spot
Indecent Exposure
Where There's A Will
Romances
Saving All My Lovin' Nov. 2006
If I Were Your Woman Feb. 2007
After Dark July 2007
Moments Like This (summer 2007)
Upcoming Fiction
Wicked Ways (Oct. 2007)
Creepin' (erotic paranormal) 2007
Special Edition Collectors Series
Courageous Hearts
Tis the Season
Film Credits

The Return of Fire
** Made for TV movies