A Sinner's Cry
by Rose Jackson-Beavers
Denise Reese is beautiful, successful and can buy anything she wants. But all she needs is to be wrapped in the arms of Darren Tate, a sexy, Professor she's been involved with for almost two-years. When her life seemed as if it was on a sure course to perfection, a single phone call sent her reality crashing and left her heart broken and vulnerable. Trying to find a way to gather her life back together, Denise seeks solace in the confines of her former church. As she struggles to gain redemption, the ringing of her phone continues to haunt her. Through her struggles of trying to stay on the right path, she receives support from the pastor, the handsome James Davis. As he encourages her, he faces allegations from his congregation of misdoings. While the two attempt to walk the right path, they struggle with the lies and deception that those closest to them are spreading, while wondering if they should allow their hearts to find each other. As Denise learns to decipher between lust and love, she realizes always God hears sincere cries.
www.prioritybooks.com
The Write Plan
Dr. Linda Beed
Gift certificate entitles you to developmental review of first three chapters of manuscript.
www.thewriteplan.net
Telling Your Tale: A Beginner's Guide to Writing Fiction for Print and eBook
By Angela Benson
Telling Your Tale: The Beginner's Guide to Writing Fiction for Print and eBook (2nd edition) is a 10-week writing class in ONE eBook!
Telling Your Tale: The Beginner's Guide to Writing Fiction for eBook and Print is for you if -
* You want to write a book, but don't know how to get started. Telling Your Tale can help you learn.
* You've written a book, but you're concerned because somebody told you it wasn't good enough. Remember it's just their opinion. You may never be able to change it, but Telling Your Tale can help you get better at the craft of writing.
* You're writing a book, but you don't think you can finish it. You can. You just need a little push in the right direction. Telling Your Tale gives you that push.
Whether you want to be published by a traditional publisher or intend to go the independent route and publish your own book through eBook and POD (print on demand) mechanisms, Telling Your Tale can help you. Using engaging exercises, illustrative examples and inspiring advice, Telling Your Tale will guide you to find your writing voice and personal style, develop multidimensional characters who reflect today's diverse communities, and weave plots that keep readers turning the pages.
http://theamensisters.com/tellingyourtale.html
The Table in the Window
By Elaine Cantrell
Being dumped by your gorgeous fiancé is bad enough no matter when it happens, but he did it at Christmas time! Marley thinks she'll never get over it, but Rob Travers disagrees. He sets out to win Marley's heart, well aware that when she finds out about his past, she may turn her back on him forever.
http://www.elainecantrell.com
Sand and Silk Soap
They are fragrant, beautiful and wonderful in the bath: one is Pink Sands, the other Pina Colada
www.sandandsilk.com
Do You Still Do What Happens Happily Ever After
By Cheryl Lacey Donovan & Keith Donovan
Do You Still Do? is a wonderful guide on being spiritually married. And that is something else altogether than, simply, being married. I really loved that the book was written by Mr. and Mrs. Donovan and added a masculine component that is usually missing in marital, relationship books. Angelia Menchan
http://www.doyoustilldomarriage.blogspot.com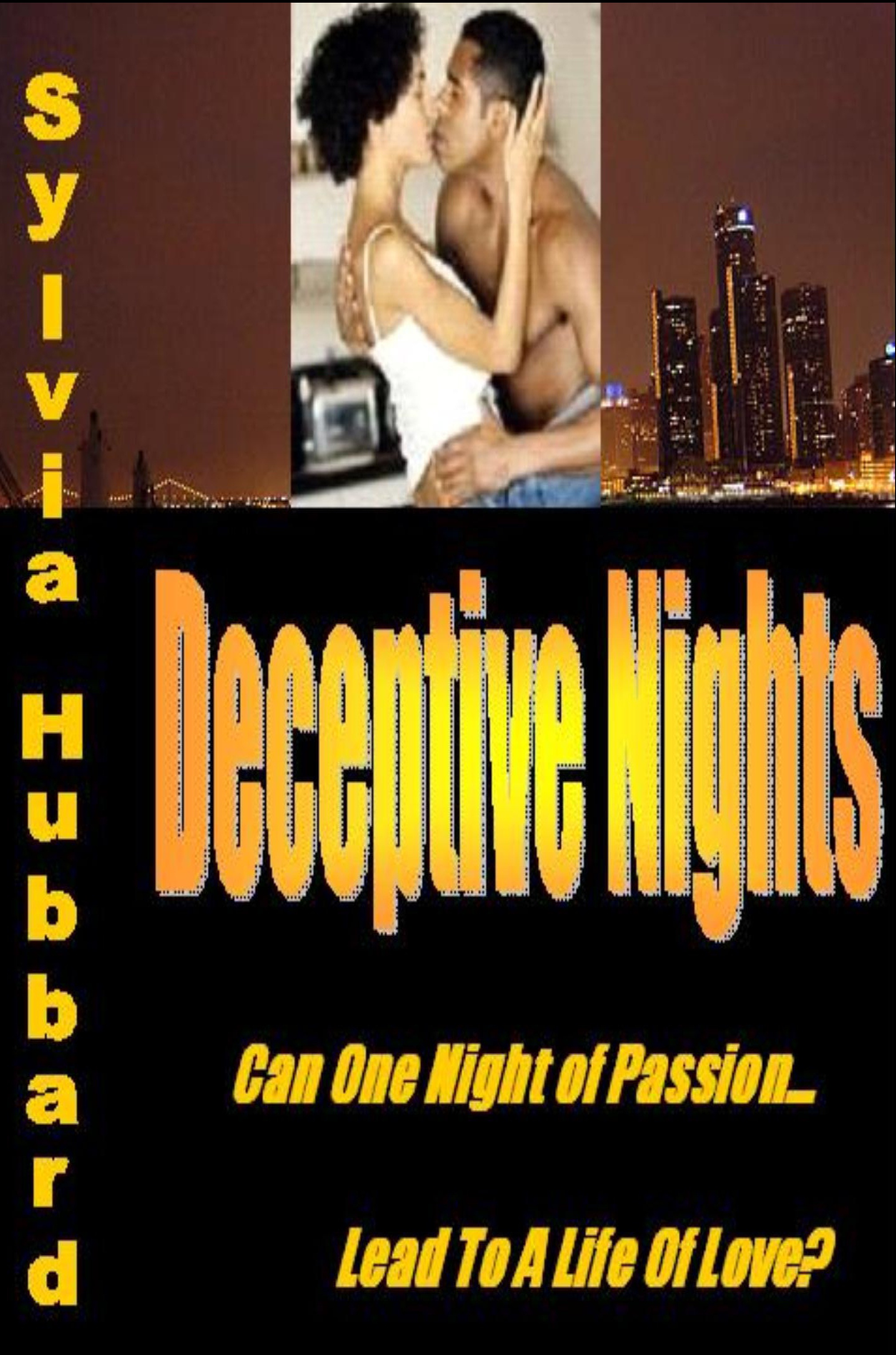 Deceptive Nights
By Sylvia Hubbard
When her husband leaves her with nothing, Phoebe Green vows to never give another man any part of her heart or her body without getting something in return.
Jacoby Knight just wants to find a woman, who wants to join themselves with his body and not his massive bank account.
These two strangers meet and find they can meet each other needs, yet one night won't do when passion this hot meets.
http://www.smashwords.com/books/view/20331
A Kiss of a Different Color
By Bettye Griffin
After nine months of unemployment, physical therapy assistant Miranda Rhett leaves her home in Racine, Wisconsin, to take a job in employment-rich Bismarck, North Dakota, despite the city's startling absence of African-Americans. Once there, far removed from anyone who would tease her about her dream of ballroom dancing, she signs up for lessons, providing the school can find her a partner. The school comes through in the form of handsome, sexy Jon Lindbergh, a recent transplant from Minnesota.
Jon is as charming as he is agile on the dance floor, and Miranda soon finds that her romantic daydreams about falling in love in the arms of a handsome partner on the dance floor spilling over into real life. But Jon's family history of four generations of failed marriages has made a non-believer out of him. His primary interest seems to be hooking up with someone with whom to spend the bitterly cold North Dakota winter. Miranda doesn't believe in pursuing failure, and an even bigger obstacle is their learning they have the same employer--who instituted a strict no-dating rule in the wake of a sexual harassment scandal. Both of them have plenty to lose...Miranda paid her own relocation expenses at considerable cost, and while Jon, a director, was reimbursed for his, he has invested in a house. He feels that no one will be the wiser, since he works at corporate and she at the rehabilitation center. Miranda is not so sure. But with the magical sparks that pass between them every time they look at each other, and with an average high winter temperature in the single digits and frequent dips below zero, what's a girl to do?
If she's Miranda, she does what comes naturally...and tries like hell to be the one to make a believer out of him...
Bettye Griffin - Bunderful Books
Even Sinners Have Souls TOO:
By Various Authors
Darrell King, Victor L. Martin and Essence Best-Selling authors, Tysha and Michel Moore, bring you four smashing tales, but not before National Best-Selling author, K'Wan, hits you with the powerful introduction, Oh Sinner Man. Edited by award winning author E. N. Joy, once again, some of the literary industry's much respected authors pick up their pens to ink something outside of their norm. As the gritty tales unfold, the readers' souls will be enveloped by the moving and unexpected outcomes. Unlike other street stories, these real and raw characters choose neither the road most traveled nor the road traveled less; they make their own way.
www.enjoywrites.com
Santa's Helper
by Deatri King-Bey
Santa's Helper: Marybeth Write is a kindergartner on a mission many deem impossible—to see her dad marry their neighbor by Christmas. To accomplish this mission, she'll have to go straight to the top—her grandmother and the big guy himself—Santa! A kid's gotta do what a kid's gotta do.
Five years ago when District Attorney Houston Write lost his wife to breast cancer, he began going through the motions of life without truly living. Then choreographer Sabrina Ingles moved in across the street and reignited a fire within him he thought was long gone. Now Houston is ready to live again and give his child the mother she deserves.
When Sabrina Ingles' marriage went down in flames, she swore off relationships and the trouble that accompanies them. But how could she shield herself against the most adorable little girl ever? Marybeth quickly became a part of Sabrina's heart as Sabrina's undeniable attraction to Houston grew stronger. Guarding her heart against the type of man fantasies are jealous of has become a full-time job, but she refuses to be burned again.
http://deatrikingbey.com
Caught Up in the Rapture
By Lisa G. Riley
We meet the outspoken Tracy Adamson as she's sneaking out of a Parisian apartment after indulging in a one-night stand with Jacques, a Frenchman whom she believes she'll never see again. Mortified by her behavior, she flies home to Chicago.
Jaques Winthrop is a French-American federal agent and is only in Paris to track down an American fugitive, but finds himself irresistibly drawn to Tracy. A ladies' man who enjoys having no ties to women, Jaques decides to seduce her and let her believe that he lives in France. No one is more surprised than he that he can't stop thinking about her. And when he wakes up to find her gone after their one explosive night together, the amount of disappointment he feels stuns him.
Tracy is determined not to get involved with Jacques. Gorgeous Jacques who for the first time in his life is interested in more than just sex with a woman, is determined to change her mind. In the meantime, Jacques is on the trail of Alexander Brickman, a criminal mastermind that has been Jacques' personal nemesis for at least a decade.
www.lisagriley.wordpress.com
.
Lights Out
By Ruthie Robinson
Piper Renee Knight was sole proprietor of two coffee shops located in Austin, Texas. Lights Out Coffee began two and a half years ago as a joint venture with her father, Macarthur "Lights Out" Knight, former boxing great turned businessman. Joe and Piper meet during Joe's second visit to her shop and exchange coffee and banter. They both agree to take their attraction further. But before they can start, Piper's father asks her to look after his two younger daughters, her half-sisters. His third wife has left him.
Piper settles her sisters into her life, locating a school for them. She decided that Joe is not an option for her now that she has the girls, and he gets her message and stops coming by the shop. They meet again at the kids' school. Joe has been raising his nephew for the last two years, after his sister's departure. During the school year they join forces and work together. Piper falls in love, and, while Joe likes her, he's not sure with his nephew and his prior life experiences that he's in for the long haul?.
Guilty By Association
By Pat Simmons
Guilty by Association is the story of Kevin "Kidd" Jamieson. Kidd suffers from the "angry black man syndrome". How dare his father insist that his sons carry his last name when he was never around? As far as he's concerned the Jamieson name is worthless. Kidd's anger is seeping out into every area of his life as he carelessly leaves a trail of destruction whenever he goes. When he receives an invitation from a distant cousin, Parke Jamieson VI to come to St. Louis, he is hesitant but accepts it almost as a dare. Though he initially bumps heads with his cousin, a series of events that involve a dog named Silent Killer, Stacy Adams shoes, and two women who enter his life to calm his raging storm, Kidd makes St. Louis home. One woman is Eva Savoy who becomes his "Eve," a woman through whom God uncovers and exposes the underlying goodness in Kidd's heart.
Reluctantly, Kidd allows Parke to walk him through information on their royal family heritage. Overwhelmed by the care and compassion of new friends and family, Kidd struggles to keep up the bad boy attitude but his walls are starting to crumble and he knows he's going down.
Eventually, Kidd learns it's not his association with the name that identifies him, but the man he becomes that defines him.
http://patsimmons.net
If you enjoyed this post, please consider becoming a member of SORMAG's community - Join Today

Do you need help with your promoting? - http://sormag.com/advertise.htm